Analysts at Jefferies say the cannabis industry could reach $130 billion by 2029. "This assumes full U.S. federal legalization, full recreational and medical legalization across Europe, full medical and recreational legalization across Lat Am, and cannabis disruption of a number of other industries," noted the analysts, as quoted by Yahoo Finance. "Industries at risk of disruption are pharma, alcohol, health and wellness, pet care and smoking cessation." In addition, according to Arcview Market Research and BDS Analytics, global spending on cannabis could reach $57 billion by 2027. All as people around the world wake up to the health benefits of cannabis, including the treatment of insomnia, stress, anxiety, pain, and even chronic issues. That's opening a wide range of opportunity for companies including The Yield Growth Corp. (CSE:BOSS) (OTC:BOSQF), Canopy Growth Corporation (TO:WEED)(NYSE:CGC), Aurora Cannabis Inc. (NYSE:ACB)(TO:ACB), Charlotte's Web Holdings Inc. (CN:CWEB) (OTC:CBWHF), Aphria Inc. (NYSE:APHA)(TO:APHA), and Green Growth Brands Inc. (CSE:GGB)(OTC:GGBXF).
The Yield Growth Corp. (CSE:BOSS)(OTCQB:BOSQF) BREAKING NEWS: The Yield Growth Corp. just announced that its Urban Juve Balance Face Moisturizer with Hemp Oil has received a Compliance Certificate for registration in the European Union (EU). Yield Growth also announces that Urban Juve has successfully registered the trademark "Urban Juve" in the EU. "With our new distribution alliances in place, Urban Juve products may soon become part of the daily skin care rituals for consumers in Europe and South America," says Penny White, CEO of Yield Growth. "Conquering regulatory hurdles and securing our trademark internationally sets a solid foundation for growth." Urban Juve's Face Moisturizer joins the company's Anti-Aging Serum and Lip Balm as the third product to be officially registered with the European Union. Urban Juve has eight more products waiting for approval and expects to have these registered in the European Union within the next month. With a total population over 508 million, the EU represents massive market potential for Urban Juve products.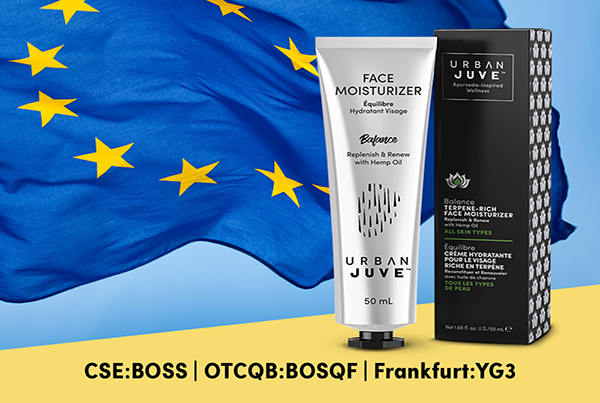 Other cannabis-related developments from around the markets include:
Canopy Growth Corporation (TO:WEED)(NYSE:CGC) just announced that it has received a license from Health Canada for its KeyLeaf Life Sciences facility in Saskatoon, Saskatchewan. Including the Smiths Falls site and the recently licensed BC Tweed extraction site, Canopy Growth now operates three significant extraction assets to support the throughput required for large scale value-add product development. Canopy Growth recently retrofitted the now fully licensed KeyLeaf facility in Saskatchewan, a company with over 50 years of experience in the extraction industry. This facility is expected to be online in the Fall of 2019 and has the capacity to extract up to 5,000 kilograms of hemp or cannabis biomass per day. The application for the license was submitted under KeyLeaf's previous name, POS Management Corp. and will be updated in due course.The newly licensed extraction platform is located in close proximity to Canopy Growth's large-scale outdoor hemp and cannabis grow operations. The Company looks forward to the additional capacity increasing production efficiency, augmenting output volume, and ultimately reducing operational costs for value-add products set to be rolled out in the Canadian recreational and medical markets at the end of calendar year 2019. "With this milestone, we are executing against the vision of making strategic investments today in order to deliver results over the long term," said Mark Zekulin, CEO, Canopy Growth. "This license will ensure we have the supply of extraction inputs for the medical, CBD, and recreational markets, especially the next generation of value-add, high margin cannabis products here in Canada."
Aurora Cannabis Inc. (NYSE:ACB)(TO:ACB) just announced the completion of the previously announced plan of arrangement with Hempco Food and Fiber Inc.) pursuant to which Aurora has acquired all of the issued and outstanding common shares of Hempco not already owned by Aurora, reflecting a valuation of approximately C$63.4 million on a fully diluted basis. Hempco is now a wholly-owned subsidiary of Aurora. The Hempco Shares will be delisted from the TSX Venture Exchange, and Aurora will apply to the relevant securities commissions for Hempco to cease to be a reporting issuer under Canadian securities laws. Hempco provides Aurora with access to low-cost, high-volume raw hemp material for the extraction of primarily cannabidiol and other cannabinoids, which is gaining recognition for potential health benefits across a wide range of applications. Aurora identified the potential of hemp-derived CBD early on, completing its first investment in Hempco in 2017, and has subsequently expanded its hemp-based infrastructure through targeted acquisitions and strategic partnerships, creating Aurora Hemp: an integrated operating unit executing the Company's Global Hemp Strategy. With expertise across genetics, extraction, product development, brands and distribution, Aurora Hemp is an end-to-end offering across the entire hemp value chain.
Charlotte's Web Holdings Inc. (CN:CWEB)(OTC:CBWHF) just announced expansion plans underway in 2019  including cultivation, production, distribution and R&D to support its forecasted sales growth. Most recent expansion initiatives include a building lease signed on a newly constructed 136,610-square-foot industrial building located at 700 Tech Court in the Colorado Technology Center (CTC) in Louisville, Colorado. The new location enables the Company to prepare for production, distribution and R&D expansion to meet increasing demand from the consumer and national retailer channels. Charlotte's Web will commence a staged build-out of the facility during Q3-2019 and continuing over a two-year period. The staged buildout of production and distribution capacities align with product demand growth. This facility will add cumulatively to the Company's existing locations in and around the Boulder, Colorado area. Along with distribution and R&D, the large cGMP-grade building will encompass the Company's new manufacturing operations, substantially adding to the current capacity of the Company's current 40,000 sq. ft. footprint.
Aphria Inc. (NYSE:APHA)(TO:APHA) just posted its results for the fourth quarter and fiscal year ended May 31, 2019. "It's a new day at Aphria. Our team's solid execution across key areas of our business resulted in strong adult-use revenue growth and a profitable fourth quarter," stated Irwin D. Simon. "Over the last six months, our organization identified immediate priorities to help generate substantial progress near-term and long-term. We built upon existing business fundamentals and capabilities, streamlined processes, strengthened governance, and focused on building brand awareness. Together, we have nurtured an entrepreneurial culture of accountability through data-driven decision-making for value creation in the global medical and adult-use cannabis industry.  Today's Aphria has a stronger foundation for long-term growth and success." The company posted net revenue of $128.6 million in the fourth quarter, an increase of 75% from prior quarter and 969% from prior year; revenue for adult-use cannabis of $18.5 million in the fourth quarter, up 158% from prior quarter; and net income of $15.8 million and adjusted EBITDA of $0.2 million in the fourth quarter.
Green Growth Brands Inc. (CSE:GGB)(OTC:GGBXF) announced its 100th Seventh Sense Botanical Therapy mall-based shop. "This is a huge milestone for Green Growth Brands and Seventh Sense," said Peter Horvath, CEO of Green Growth Brands. "We believe we have created the largest and most valuable network of brick and mortar CBD shops in the country." Seventh Sense shops retail high-quality botanical therapy CBD-infused personal care and beauty products at affordable prices. The product offering includes over 100 SKUs across bath, body, face, therapeutic, and sleep categories.
Legal Disclaimer / Except for the historical information presented herein, matters discussed in this article contain forward-looking statements that are subject to certain risks and uncertainties that could cause actual results to differ materially from any future results, performance or achievements expressed or implied by such statements. Winning Media which has a partnership with www.MarijuanaStox.com is not registered with any financial or securities regulatory authority and does not provide nor claims to provide investment advice or recommendations to readers of this release. For making specific investment decisions, readers should seek their own advice. Winning Media, which has a partnership with www.MarijuanaStox.com, is only compensated for its services in the form of cash-based compensation. Pursuant to an agreement between Winning Media (partners of MarijuanaStox.com) and The Yield Growth Corp, Winning Media has been paid four thousand dollars for advertising and marketing services for The Yield Growth Corp. We own ZERO shares of The Yield Growth Corp. Please click here for full disclaimer.
Contact Information:
2818047972
ty@marijuanastox.com
Original Article: http://www.baystreet.ca/articles/stockstowatch/50580/Is-Europe-Getting-on-Board-with-CBD-Legalization