CBD Luxe Life is a chic brand that exceeds expectations with its inventive combination products.
True price: $0.07/mg to $0.25/mg
Product selection: Inhalers, disposable vape pens, oil tinctures, and topical creams
Isolates or full spectrum: Both
Dosage range: 100 mg to 1100 mg
Pet products: No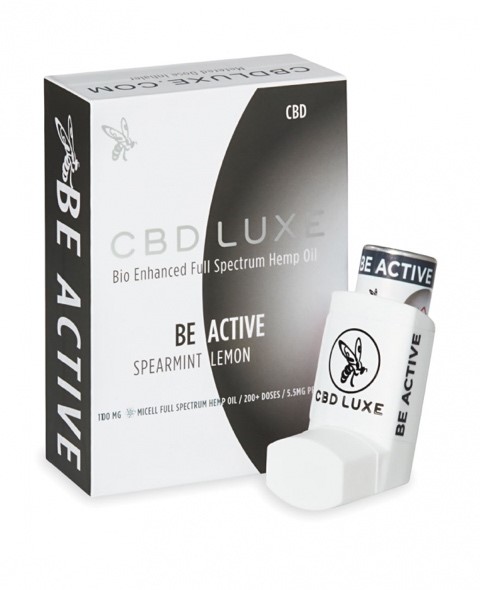 The Good
Strong quality standards • Unique CBD inhalers • Awesome bonus ingredients
The Bad
Limited product line and dosage range • New website appears incomplete (missing lab tests)
The Bottom Line
CBD Luxe Life is dedicated to ingredient purity and is perfect for the beginner or connoisseur seeking first-class creative infusions.
Who they are: Former professional snowboarder William Spilo turned to CBD to manage pain and inflammation from traumatic injuries sustained on the job. He learned a thing or two about the therapeutic benefits of CBD, and not long after, he founded CBD Luxe Life. The company is based in Colorado and utilizes organic, non-GMO hemp certified by the Colorado Department of Agriculture. Their dedication to therapeutic, pharma-grade quality and optimal delivery methods is matched by the creativity of their bonus ingredients, which include organic essential oils. Instagram fans call it a "legit company with fantastic CBD products." What more can you ask for?
Why they're unique: Does anyone else offer a full-spectrum organic CBD inhaler infused with green tea and Ginkgo biloba to boost energy? Didn't think so. CBD Luxe Life claims the exceptional quality standards consumers love – certified organic, tested ingredients and insistent purity. They combine a passion for purity with a little ingenuity to deliver something totally unique.
What products they have: Inhalers, disposable vape pens, oil tinctures, and topical creams. All of their products are THC-free. The inhalers are uniquely discreet, scent-free, and made with micellized full spectrum hemp oil dosed at 8.0 mg cannabinoids (5.5 mg CBD) per serving. The ease of accurate dosing makes the inhalers especially intriguing.
The tinctures are also full spectrum, delivered in organic coconut oil with an array of terpenes. The CBD disposable vape pens are free of propylene glycol, vegetable glycerin, and polyethylene glycol. Interestingly, they incorporate organic Japanese cotton into their design rather than fiberglass – talk about dedication. The company offers two topicals: a pain-relieving cream and a blemish cream, both dosed at 15 mg CBD per serving, both vegan. The new website has a tab for sublingual sprays, but there aren't any products currently listed. So stay tuned for that. There also aren't any lab tests posted… yet.
Bonus: Luxe Life makes me feel like I am ten years younger and ten times cooler than I am. Or maybe it's the organic CBD… you be the judge (actually… don't).